Personal Bio | Contests & Awards | Praise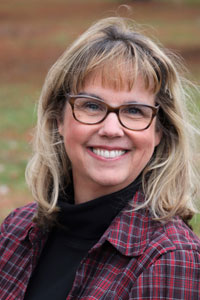 Known for her realistic, likable characters and vivid writing, Victoria Bylin delights in tackling tough subjects with respect and compassion. The Two of Us was chosen as a "Target Recommends" selection, and Together With You won the Inspirational Readers Choice Award for Best Contemporary Romance. Her books, both contemporaries and western historicals,have been critically acclaimed in Publisher's Weekly and Booklist. A native of California, she and her husband now make their home in Lexington, Kentucky. They have two sons and are the proud grandparents of twin girls and a little boy.


This may sound crazy, but I was driven to write romance by giant bugs and killer rabbits. I just couldn't take it anymore. My husband and two sons would be camped in front of the television watching a movie about spiders the size of bowling balls, and I'd be wondering when the handsome scientist would get around to kissing the spunky woman with the bug spray. When it didn't happen, I decided to write my own happy endings--without the giant bugs.
I made that decision in January 1999 after a cross-country move from southern California to northern Virginia. A job change for my husband made the relocation a necessity, but it wasn't easy. I grew up in Los Angeles, attended both UCLA and UC Berkeley, and lived for eight years in a mountain community just south of Bakersfield. I'm happiest at the beach and have ridden out earthquakes. I know Interstate 5 like the back of my hand. I'm addicted to sunshine and can tolerate smog.

Packing up and moving to the east coast was like yanking a palm tree out of the sand by its roots. Our new adventure started with a cross-country drive, and I'll never forget cruising down I-40 with my husband and sons in our old Dodge Ramcharger. A thunderstorm struck fast and hard. When it cleared, we saw a double-rainbow arching over the highway. Like Noah in the days of old, I took at as a sign of a promising future and new opportunities.

For me, that meant writing a novel. As soon as we settled into our new routine in Virginia, I sat in front of the computer, named the heroine Susan because it was the first name that popped into my head, and promised myself that I wouldn't edit a word until I'd written "The End." I had no idea who Susan was or how the story would unfold. I just stuck her in a barn with a dead body and a grief-stricken rancher.

The writing wasn't very good, but something wonderful happened. Ideas came. My characters developed quirks, and I wanted to know what would happen next. That effort is under the bed gathering dust, but my second manuscript turned into Of Men and Angels, my first sale to Harlequin Historical.

Writing is a challenge and a joy, but the things in life that matter most are faith, friends and family. I'm bone-deep grateful for a wonderful husband and two terrific sons who are married and on their own. I have wonderful in-laws, a brother and sister-in-law, and writing friends spread across the nation. The promise of that double-rainbow in Arizona has been more than fulfilled. Life is good, and best of all, there's more to come.

2016 Inspirational Readers Choice Award, Best Contemporary Romance, Together With You
2010 ACFW Carol Award Finalist for Best Historical Novella for "Home Again"
2009 Romantic Times Reviewer's Choice finalist for The Maverick Preacher
2006 RWA Rita Award Finalist, Best Short Historical for Abbie's Outlaw
2004 National Readers Choice Award Finalist, Best Historical for West of Heaven
2004 Booksellers Best Finalist, West of Heaven
2003 Virginia Romance Writers Holt Medallion Finalist, Of Men and Angels


About The Two of Us: "This joyous story will speak deeply to the hearts of Christian readers."--Publishers Weekly
"[Someone Like You] features Bylin's signature relatable characters and Christian relationships. She is immeasurably tender in her treatment of grief and healing, and she does not shy away form the complexities of shame, loss of faith, and coparenting. Readers will immediately fall into the story and its compelling reflections on faith."--Booklist
"Bylin's latest [Someone Like You] showcases a sweet second-chance love story...Her characters are relatable and the story is interspersed with a few hilarious moments--particularly those involving a rambunctious goat--to break up the moments of drama. Bylin does a beautiful job reminding readers that...it is never too late to turn back to God."--RT Book Reviews
"Together With You stands out with its strong characters and authentic writing from an author whose care for the topic shines within its pages. A contemporary romance that offers much more than a will-they-or-won't-they scenario, this title offers a sweet love story set within the challenges and joys everyday families face."—Christian Retailers + Resources